Pastor
Pastor
Rev. Joel Suckow
Phone: 715-845-3253

Email: jsuckow3@gmail.com
Go Back to Ministries & Staff.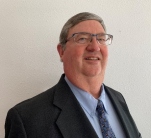 Born in Phoenix, Arizona, in 1958, I grew up in various suburbs of Los Angeles, eventually confirmed at Our Savior Evangelical Lutheran Church, Pomona, California. I was a student at public schools throughout my grade school years and two years of high school. As a junior I transferred to Northwestern Lutheran Academy, Mobridge, South Dakota, the WELS prep school nearest to California, graduating in 1976.

I attended Northwestern College, Watertown, Wisconsin from 1976-1980, where I also met my future wife, Ellen, a professor's daughter. I then attended Wisconsin Lutheran Seminary, Mequon, from 1980-1984. I vicared ('82-'83) at Immanuel Evangelical Lutheran Church, Waupaca. Upon graduation from the Sem, I was assigned to a dual mission parish north of LaCrosse: Good Shepherd, Holmen; and Bethel, Galesville. In the Spring of 1989 I was called to Northland Lutheran High School (now of Kronenwetter), serving there until June 2018.

Ellen and I were married in 1981, and we have three grown children and one grandson Hunter.

Since 2018 I have served a ten-month vacancy at Peace Ev. Lutheran Church in Wautoma, and for six months at Our Savior Ev. Lutheran Church, Wausau, until accepting the full-time call to Our Savior in February of 2020. Preaching and teaching (sometimes they are very similar!) are my greatest joys in ministry, but I look forward to the full gamut of parish service.